Soul Jazz, 2006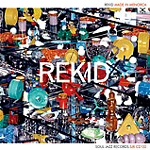 Finding the words "remixer to the stars" and "slick" bandied about on a press release sends shivers down these ears, but within a minute of dropping REKID's debut album these shivers become something of a different nature. REKID then is Matt Edwards and owner of a number of pseudonyms (Radio Slave, Quiet Village, Sea Devils [particularly enjoying the last one]), and "Made in Menorca" follows two extremely well-received singles. This long player is on one and on another sphere.
Opening with a cut-up answer phone message, "Lost Star 6" announces itself with a vibrant downtempo beat and enormous steam-like exhalations. The sound is fucking huge, with towers of echo reverberating off the beats, and in fact Edwards' sense of texture is so palpable, you can almost touch some of these sounds. Moments remind me of ambient maestro Paul Schutze's nineties work (had he been aiming at a big-league dance floor). "85 Space" is a relentlessly moving melange of sci-fi FX over a monotonous and heavy electro discoid beat, sounding like an invasion of night-club savvy Cybermen. A buried drone and bass throb leads into swarms of massed electronic detritus and warped bells—an abstract space-age urban gamelan that is truly abstract.
Detroit techno and Theo Parrish haunt these grooves, but all this is reconfigured into a thing of utterly refreshing and truly original clarity. The "slickness" then is REKID's ability to chuck so much detail into the mix and have it still breathe naturally. There are golden moments aplenty here, but the current favorite is on the aptly titled "Retro Active." After three minutes of a bastardized breeding hip-hop break and a spiraling muted Miles Davis-like cyber trumpet, a warm old-school drone brings you up and sets you flying. And "Retro Active" is probably the best description for the whole album, tractor-beaming the past and propelling it into a future dance.