Chocolate Industries, 2000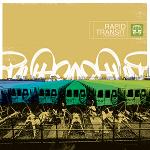 Chocolate Industries has carved a niche for itself as a purveyor of fine tech-hop. By "tech-hop" I mean that special moment when electronics and hip-hop make love. In any case, Rapid Transit is a good overview of Chocolate Industries' progress so far. Unfortunately, that means it contains many tracks from older releases (which I already have), but that's hardly a valid quibble.
First up is "7th Message" by Prefuse 73, which sets the tone with broken vocals and a gorgeous electronic melody. Roots Manuva sounds a bit out of place with "Juggle Tings Proper," and East Flatbush Project's original "Tried by 12" has been beaten to death. Luckily Gescom's mix of "Non Existant" by Push-Button Objects brings us back into the realm of the experimental. It's a little long, but that's what DJs are for.
Other highlights on this collection include the "Y2K Mix" of Sluta Leta's "Whispers Special" which starts with a very familiar-sounding piano line that gradually distorts until the beats kick in. The vocal snippets get a bit repetitive by the five-minute mark, though. "Livin Life" by Prefuse 73 is another smooth groove with vocals chopped up by scratching. It's short but sweet. Of course Funkstörung's mix of "Tried by 12" is a classic. If you haven't heard it yet, you're missing out. Likewise, Funkstörung's "Aerogram" is pleasingly melodic. Finally, "Slate" by While offers a taste of things to come. While's been incredibly prolific lately, and his new full-length is evidence that his music's moving forward. Overall, this is a great taste of the Chocolate Industries flavor. I highly recommend it.