Chocolate Industries, 2003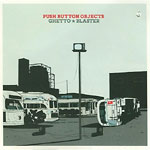 PBO may not be very prolific, but he certainly can craft a wicked track. First up, "Hustlin" is a perfect example of the classic Chocolate Industries vibe—instrumental hip-hop with some complexity. But almost half of the album consists of tracks with MCs. Cannibal Ox provides creative lyrics over a funky break on "Fly." Likewise, "3 Doctors" succeeds thanks to original rhymes and slick production. Wrapping up the first LP, "Breaker's Delight" is another fine instrumental with crunchy beats, vocal snippets, and even a hint of electro synths. It all comes together to form a brooding, gritty tech-hop masterpiece.
My favorite section of the album is Side C. "Air" is a dark mix of swirling chords and vocal snippets. The gravelly vocals fit in perfectly. "Sleep" sounds a bit like old-school DJ Vadim, with a repeated sample, a simple beat, and a melodic break. Unfortunately on the flip side, Aesop Rock once again fails to amuse. Thankfully, "Washington Ave" provides much-needed closure.
It seems a lot of hip-hop-inspired bedroom musicians long to be producers, but I still enjoy their instrumental tracks the most. At least PBO maintains a decent balance between rap and more abstract pursuits.