Warp, 2000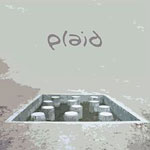 Ed Handley and Andy Turner have certainly been there and done that in the electronic music world, the most illustrious credit to their name being that they were two-thirds of The Black Dog. After their accrimonious split, the duo continued their work as Plaid, as well as pursuing solo projects under the monikers Tura, Balil, and Atypic. The very short bio within Trainer reveals this much, but (quite reasonably) doesn't hint at the difficulties involved in getting this retrospective released. After legal wranglings 'twixt Black Dog and Plaid aplenty, however, a modified Trainer has surfaced, and is none the worse for a trimming from three CDs to two. The chronological sequence of tracks begins in the dark mists of techno time—1989—with Plaid's very first completed recording, "Uneasy Listening." As you'd expect, it doesn't match their later work, but is seemingly included as a historical artifact: a chunky mix-up of slightly off-time breaks and sampled brass chords.
The next tracks are from two years later, from the now rare album Mbuki Mvuki. Listening to these tracks is enjoyable in the same way as listening to LFO or early Orbital: faintly embarrassing but fun, sharing the same discordant basses and upfront beats, but with a dash of added funk (I defy anyone not to bob like a fool to "Slice Of Cheese"). "Anything" weaves a track from two chopped and changed sequences of organ stabs and a break; "Link" shows the first real evidence of the current Plaid melodic sensibilities, with a simple but lovely chord sequence and floating melody beneath the skittering beat; and "Yak" bounds with almost tangible triplet energy. And, of course, there's "Scoobs In Columbia," Plaid's famous foray into the Latin sector—which seems to have gained its notoriety through rarity rather than its musical virtues. However, it still remains a big-beat track which would rock many a party (and put to shame many of today's purveyors of large breaks).
From track 11 onwards, the focus changes to the Plaid solo projects. Who is responsible for what is impossible to tell (from the sleevenotes at least); however, each has its own flavor. Atypic is dense, mechanical and techno-heavy, abounding with high-freqency action and manipulated leads. The best of the three tracks included, "Blah," strikes a cooly futuristic note. Tura, also occupying three tracks (this time on CD2), is possibly the most difficult of all the aliases—"Letter" and "Soft Key" are nigh-impenetrable slabs of atonal and rhythmic noise—but the most rewarding, "Reishi," the dark highlight of the whole collection, manages to combine a near-house beat and truly moving harmonies in a nine-minute piece which would leave any dancefloor in tears. Balil is given six of the twenty-six tracks, and provides some of Trainer's most beautiful moments, bringing together perfect abstract themes and intricate rhythms (as exemplified by "Norte Route"); "Eshish"'s underwater ambience could easily have provided The Orb with inspiration for "Blue Room."
The second CD closes with (comparatively) recent work, from late 1994 and 1995. "Tan Sau," originally unreleased, is stunning: a track far darker and more menacing than you could imagine from the Plaid of Rest Proof Clockwork, which shifts effortlessly through ominous pad sounds and vaulting melody-lines. "Android"'s mid-track climax takes over four minutes to reach but is worth the wait, while "Angry Dolphin" ends the collection with eight minutes of jerky freestyle breakplay and skewed noodling. The contrast with the first tracks of Trainer is striking: a progression from naivety to experience.
It may not come across from the above descriptions, but I really have fallen in love with Trainer. At first the re-release seemed gimmicky—a profiteering maneuver by Warp (and that may well have been the motive). But after hearing these tracks, I am extremely glad they have been opened up to a greater audience. Plaid are a rare find—everything here radiates an effortless connection with their medium which very few artists have—and the more of them we hear the better. Make it your top priority to hear Trainer for yourself.