Lux Nigra, 2006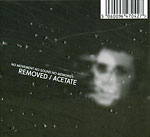 For the first time, No Movement's 1999 12-inch "Removed" is available on CD, with the added bonus of a new 12-inch, "Acetate." There are mixes here by Arovane, Claro Intelecto, Modeselektor, and Pole, among others.
The original version of "Removed" (actually an edit of a track from the Biophilia Allstars compilation) features droning, changing static and a slow beat. It's a surprisingly busy track with hints of industrial and ambient influences. Arovane's version hides the static squeal, but adds a speedy snare and delicate electronics. It's a warm, melodic take on what was originally alienating material. No.9's mix takes the opposite approach, dispensing with beats altogether and applying squelchy filters to the static, breaking it into stutters. Multipara's "Vacuous Movement" is a sped-up version of the original with added clanking noises, heavy breathing, and moments of skipping clacks. Pole also stays fairly true to source, adding his patented clicks and echoes. Finally, Artificial Duck Flavour provides a riveting version with roiling bass and Public Energy-esque percussion.
"Fabric" is an exclusive bonus track in a dubby, Porter Ricks style. The original version of "Acetate" is actually pretty IDMy, with glitchy beats and honks over a slow-moving static cold front. DJ Maxximus somehow incorporates the honks into a basic, bass-heavy grime break. The "Skeletal Decisions" version by Bill Youngman and Something J also takes a grime approach, with a stilted rap over churning synths. This is a candidate for Futurism Ain't Shit to Me 3! James Din A4 contributes a Casio calliope cover version, while Modeselektor's mix is melodic drum and bass. Last but not least, Claro Intelecto merges quiet synths with electro beats. This is my favorite mix, with hints of Autechre's Amber.
It's hard to sum up such a diverse selection. The first half of this CD is a great overview of the electronic music scene seven years ago. The second half's new tracks should sound fresher, but they actually seem a bit shallow. It will be interesting to see how well "Acetate" ages.