NWAQ/Delsin, 2007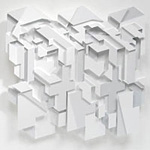 This incredible album from the mysterious Dutch producer Jochem Peteri shows it's still possible to craft a completely unique sound. Peteri bucks the trend of cookie-cutter dub techno. A couple of his tracks sound like old house records pitched down underwater.
"The Force" builds for a glorious ten minutes, highs swirling hypnotically over a simple kickdrum. It's an eighties club dream-sequence, a nostalgically crackling record glimpsed through mirror-ball-illuminated incense smoke. Squeezed on the same side, "Star Power" is a slow-jam groover with a hint of hip-hop. Keys flit over a looped sample and sexy bass. "Avon Sparkle" is a perfectly constructed Detroit-style track. "The Tide You Can't Feel" is simple but deep.
The title track is another slow-burner. The whispered vocals are barely discernible fragments: "Dark, light," "step by step," and "not just a reflection." It's a funky, beautiful composition. "Shine Eyed" seems like a dub tracing of the previous track with heavy filtering of feather-light chimes. Finally, "Kirana's Lament" is the perfect companion to "Star Power," featuring eighties synths, percussive samples, and a catchy groove.
How often do you come across an album where every single track is so heavenly? Currently this release is only available on vinyl, but a CD version is slated for February release. I know I couldn't wait.