Perfect Toy, 2006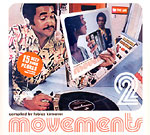 Munich DJ Tobias Kirmayer has a good ear for rare deep American funk. Unlike certain British crate-diggers' comps which are little more than bootlegs (some without even artist and label names!), this one has excellent sound quality, and Perfect Toy pays its dues. Also, unlike collections at the other end of the spectrum (ahem), the liner notes feature actual research about the artists who created these 45s instead of the nerdy guys who discovered them.
There are so many great cuts here, it's hard to pick favorites. "There's a Wrinkle in Our Time" by 1984 has a trippy B-movie intro with countdown snippets over waves of reverb. "My Mind Set Me Free Pt. 1" by the House Guests features a young Bootsy Collins and his older brother Catfish. Its intro is obviously inspired by the Mission Impossible theme. "Now Is The Time" by Sisters Love is thick and deep, with amazingly soulful vocals.
My favorite track is "Southern Fried Chicken Pt. 1 & 2" by Bill Thomas & The Fendells. The backbeat is ahead of its time for 1965, and Thomas speaks over top to introduce each section, repeating "awright awright awright awright"! "Misery Is Gone Pt. 1 & 2" is a close second for its rumbling bassline and catchy guitar licks. There's a great break half-way through too.
"Got to Get Back to Lousiana Pt. 2" by Elmer & Brenda Parker and the Nite Liters is particularly haunting post-Hurricane Katrina. The vocals are call-and-response, with Brenda improvising around the single phrase, "Get on back." Funky Nassau's "Bahama Soul Stew" is another cut with a great break. "Motherless Child" by Harmonica Paul is reminiscent of pre-war blues. In fact, Paul recorded the song alone on guitar and a producer later overdubbed drums and rhythm guitar to fill in the sound.
Obscure funk singles have always been a staple of hip-hop sampling. In the UK, there's also a "rare groove" scene which seems to be built around trainspotting by obsessive-compulsive collectors (yeah, pot/kettle). These two movements drive up record prices, so thank goodness for the growing number of compilations which bring this incredible music to a wider audience.