City Centre Offices, 2006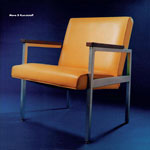 Originally released in 1995 on Source Records, Move D's Kunststoff ("Plastic") is a quirky, funky take on Detroit techno. The piano-happy "Eastman" has a house feel with lots of treble percussion. "Soap Bubbles" is beautifully low-key with pads and panning squelches. "Sandmann" is heavy with smooth deep bass, kickdrum, and burbles. Other highlights are "In/Out (Initial Mix)," which is lush and melodic in an Aphex Twin style, and "Hood," a slow-building acid track which easily fits in with the retro cuts coming out these days.
Move D is David Moufang (half of Deep Space Network and founder of Source Records). This is one of those albums that has been out of print for way too long, though it hasn't aged a day. Thankfully City Centre Offices repressed it in anticipation of a new Move D album coming next year.