Smallville, 2008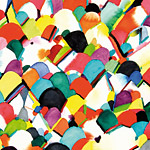 Move D is a producer whose music is all over the map. His classic album Kunststoff was a late example of "intelligent" techno, while his recent Workshop releases seem inspired by Detroit house. His three BineMusic albums (including another collaboration with Brunn) are generally dubby and downtempo, while his recent Modern Love 12″ is dubby and uptempo. As much as I appreciate David Moufang's willingness to experiment, he may be a little too prolific. Songs from the Beehive has some pleasant moments, but overall it seems too safe.
"Love the One You're With" is slow-building dub house, with reverberating chords joining a pair of short vocal samples. Eventually other parts of the sampled sentence are revealed, and a kickdrum is added. I keep hoping for a little more melody. "Velvet Paws" is the best track here with changing, analogue-sounding synths and dense percussion. Unfortunately, it all disintegrates in an overly drawn-out ending. "Honey" is a hypnotic house track with acid pulses, but its thirteen-minute length seems excessive. "Like a Restless Sea" is loopy with a repeating spoken phrase and trippy electronic bloops. Next to the epic durations of the previous three tracks, six minutes seems like an interlude. "Come In" is dark and strange, while "Mothercorn" is warm and noodly. Finally "Radar" is a twenty minute journey. It begins with long notes and glitchy, clicking sounds which are joined by a steady beat and echoing chords. It ends with random reverberating bleeps.
I really want to like this album, but I feel that something is missing. These tracks tend to sink into the background, lacking distinctive sounds to grab on to. They feel like summaries of more daring dance records. This album would probably be good for cooling down after a night of clubbing, but it falls short of earning a place on my iPod for day-to-day listening.