Atmospheric Existence Recordings, 2009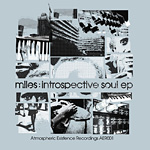 This digital EP came out over the summer, but I didn't discover it until Aesthetic Audio published a Miles Sagnia 12-inch last month. It's been a while since a new release has gotten me this excited. The tracks cross genres, ranging from deep house to ambient. "Perseverence" [sic] falls squarely in the former category, with a solid beat and soulful singing. Chords decay and electronics burble over a spacious ten minutes. "Karmic Tendencies" is a bit dubbier, with a thick bouncy bassline. Once again sparse vocals stay back in the mix.
"The Vision" begins simple and techy, but halfway through it really starts to progress, with reverberating keys and subtle bassline changes. "Celestial Autobot" is almost Drexciyan in its complexity, with square synthlines charging over claps and snare hits. Near the end, a synth solo flies off into space. It really is a beautiful construction, reminding me why Detroit-inspired British musicians were saddled with the adjective "intelligent."
The final track, "Follow the Light" is a pleasant surprise. Call it IDM or ambient, it is a superb meditation on background voices. Chords slowly change as bleeps and static coax out a rhythm.
Miles has been a London DJ for years, but he only started producing his own music recently. If his first two solo efforts are any indication, he has a bright future ahead.