Ai, 2005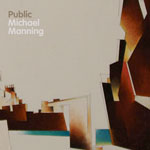 This is Manning's first full-length release since he signed to Ai Records two years ago at the tender age of 17. With live piano, drums, and voices, this varied album shows great depth. "Sound Check" starts with funky percussion, then adds spacey vocal tones. "Streets through TV" features additional acoustic drumming. This time the rhythm is more exotic, and occasional crowd noise creates the feel of a movie soundtrack. On "Wake Up," Mannings' vocalist, Helen Lord, sounds very Björk-like as she vamps over lush, melodic electronics. "Cautionary Tale" is an ambient track with slow piano noodling over a soft vocal drone.
The second half of this album is a series of short but sweet electronic compositions. "Insect Potentiality" features more ethereal Björkiness until Lord's voice becomes a looped stutter. On "Today," a marching beat is accompanied by a catchy electronic melody. Vocals punctuate the end of this too-brief piece. Finally, "Astral Poetry" reminds me of a Metamatics track, with muffled samples of a woman reading a journal over music box bells.
This album is a lot less beat-centric than other Ai releases. Manning's music is diverse, but many of these tracks seem too short. He creates plenty of beautiful sounds, and I'd love to hear him develop his ideas on longer pieces.