London Electrics, 2005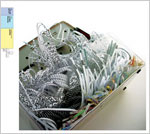 LE:01 is a collaboration between six hip London labels: Ai, Expanding, Highpoint Lowlife, Seed, SRL, and Uncharted Audio. Some of the artists here are already well-known on the electronic music scene. This amazing collection offers a dozen high-quality tracks, many of which are exclusive.
Benge kicks things off with a solid dose of melodic IDM. Clicky beats and thick pulses of bass mesh perfectly with music-box chimes. Bovaflux's "Kleine" is even sweeter, with liquidy percussion and soft, melodic notes. Jacen Solo's "Abstract Soul" is a departure—an odd, jarring clash of keyboards in different keys over an '80s beat. Thankfully Digitonal's "Cantus V" is more soothing with strings over a familiar, rhythmic groove. Another highlight is "Fall of Empire" by Posthuman which starts soft and quiet, then builds into a fierce torrent of beats. 11t1 offers a return to melody on the short, Global Goonish "GuacOff()." Finally, "A Mistake" by Line is classic synthpop with alienated vocals over bleeps, bass, and a retro drum machine. There's even electric guitar at the end.
This is the hippest comp. I've seen in ages, with stylish design by Build and a line-up of artists who share a similar aesthetic. Best of all, it's introduced me to some new names and a couple of emerging labels. Fans of melodic electronics need to track this down.