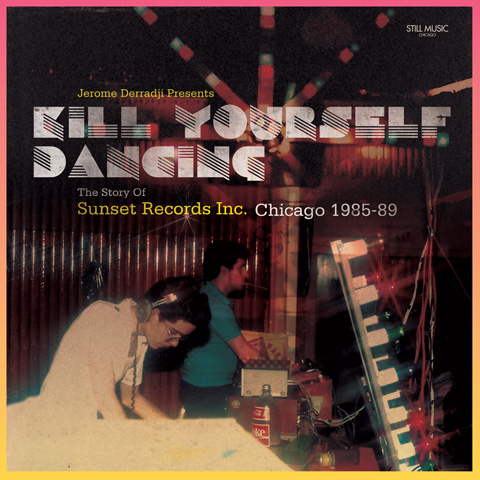 I'm proud to share this project I worked on with Jerome Derradji at Still Music. Check your local record store September 17 for a two-disc (vinyl or CD) compilation profiling Chicago's Sunset Records Inc. I contributed extensive liner notes (over 4700 words) describing the label's brief but brilliant rise through interviews with Matt Warren, Miguel Garcia, Alex Rojo, Ralphi Rosario, White Knight, Ben Mays, and Scott Free. Here's an excerpt describing the creation of the label's first single:
Recalls Matt, "By this time [Jesse Saunders'] 'On & On Tracs' [sic] had came out. The whole beat track era of music was very popular… so our idea, me and Ralphi [Rosario], was to do a beat track record."

Miguel brought his Roland TR-909 drum machine, which he believes was the first one purchased in Chicago, and a Sequential Circuits Pro One synthesizer to Matt's house to record four beats. They took the resulting tape to Chicago Trax studio (not related to Trax Records) to do the mix-down with Farley "Jack Master" Funk. As the tracks played, Dane Roewade began improvising a synthesizer bassline to one of the beats. "Next thing you know we bring him in, and we ended up recording it," Matt remembers.

Likewise, Farley heard Ralphi rapping to his rhythm and suggested he record some vocals. "There I was, right on the spot—went in there behind the mic and did a few things, and there you go," Ralphi says. "Tracks that you spend less time on are the ones that always do better." The result was "Razz-Matazz," with its catchy refrain, "Asi me gusta. Asi me gusta. Baile!"

Similarly, Miguel's offhand remark that you could kill yourself dancing to Matt's track resulted in a vocal chant. Matt credits engineer Steve Spapperi with the idea to make the word "kill" sound bigger with Matt, Robert, Ralphi, and Farley all yelling into the microphone.

The resulting Razz EP had cross-over appeal when it was released in May 1985. Kenny Jason, Ralphi Rosario, and Julian Perez played "Razz-Matazz" on their mix shows while Farley played "Kill Yourself Dancing."
The rest of the story encompasses spectacular light shows, Miami nights, Chicago's b-boy scene, the Hot Mix 5, the Power Plant, and an infamous bootlegger. The music itself is a joy to hear, with Latin and New Wave influences not often recognized in the traditional narrative of Chicago house music.
See Resident Advisor for the full CD tracklist, and watch this space for news on a related project, also coming soon!