Skylax, 2011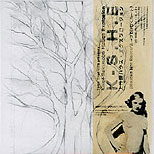 This album, originally released five years ago on the artist's own label, Comatonse Recordings, has gained something of a cult following. It's easy to hear why. Terre Thaemlitz (aka DJ Sprinkles) concocts some of the most original deep house I've ever heard. Skylax already reissued much of the album as vinyl singles, but the full-length CD is a joy from start to finish.
The opening track, "Down Home Kami-Sakunobe," forgoes a kickdrum. Fiddles, piano, and dubby breaths flirt lazily over a bass pulse and snare taps. "Saki-Chan (Pt. 1)" is one of two interview excerpts in Japanese describing the experience of a transgendered person who wears a schoolgirl uniform.
"Hobo-Train" is almost thirteen minutes long. The slow progression of jazzy guitar and gospel-style samples reminds me of Kenny Dixon Jr. On "B2B," the chant, "brother to brother, brother to brother" repeats over a loop from LNR's "Work It to the Bone." Three minutes in, melodic keys add a welcome layer of depth. Another three in, deep bass joins the party.
On "Stand Up," a performer recounts getting beat up by Puerto Rican drag queens at a New York subway stop. A laugh track loops through every pause. At six minutes, this is the only composition that feels heavy-handed. By contrast, the dub version of "Double Secret" has a light touch. Dubby synths form a song-like structure, building to sweet wordless vocals and a piano melody.
While all of the tracks here are outstanding, "Crosstown" is my favorite. Lush percussion embraces a vivid story about two men arguing on a bus. Thaemlitz plucks out the phrases, "You my bitch. No, uh-uh, we are bitches!" Then a sample from the chorus of Stevie Wonder's "Another Star" loops in. Impressively, Thaemlitz is able to turn the most uplifting moment of a familiar song into something haunting. For a full thirteen minutes, the source material mixes moodily.
"Head (In My Private Lounge, My Pad)" is a mostly quiet, downtempo piano track featuring a surreal recording of Thaemlitz as a child. Finally, "Infected" is a catchy disco edit. Says the loop, "Ain't no antidote. Ain't no hope."