NYC Underground Disco Anthems + Previously Un-Released Exclusive Salsoul Mixes
BBE, 2009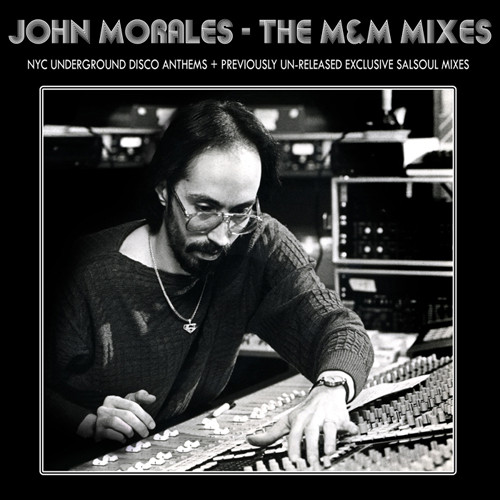 John Morales was a Bronx DJ who first gained fame crafting disco edits and medleys pressed to acetate at Sunshine Sound. (See Disco Patrick's 2007 book The Bootleg Guide to Disco Acetates, Funk, Rap and Disco Medleys.) From there, he went on to work on studio mixes for underground disco pioneers Greg Carmichael and Patrick Adams. After each recording session, Morales would stay late to make personal reference mixes which he used for DJing and radio. In some cases, these unreleased mixes are the only master-quality versions that survive.
This 2-CD/3-LP set from BBE is the first collection of Morales' "after-session" mixes. The focus is on 1980-1984, house music's formative years. Kicking things off is the most radical remix, a version of Class Action's "Weekend" that begins a capella and features extended breaks throughout. Another highlight is Ronnie Dyson's "All Over Your Face." The catchy synth-line is given plenty of time to shine at the end. Curtis Hairston's "I Want You (All Tonight)" is a sweet, slow boogie jam. Two Universal Robot Band tracks show off Leroy Burgess vocals. Oddly enough, Bumblebee Unlimited's "Lady Bug," which is billed as the 12-inch, is shorter than the same mix on Unidisc's Sting Like a Bee CD.
Moving on to the second disc, the "JM 4AM Mix" of Inner Life's "Ain't No Mountain High Enough" features a nice instrumental verse at the beginning and various unique solos at the break, but I still prefer "The Garage Version." Another favorite is Logg's "(You've Got) That Something," though the "After-Session" mix doesn't strike me as all that different from the 12-inch version. "(Knock Out) Let's Go Another Round" by Inner Life (Jocelyn Brown) is a sweet jam too.
A couple of these rare grooves are obscure for a reason. Julia & Company's "Breakin' Down (Sugar Samba)" is obnoxiously cheesy. Instant Funk's electro "No Stoppin' That Rockin'" seems very dated. Those tracks aside, however, this is an essential compilation for anyone interested in the history of house. Serious collectors will want it for the alternate mixes. On a loud, clear sound system these old tunes still pack a lot of punch.