Shima, 2007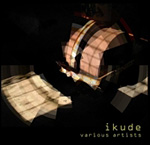 Somehow this CD got stuck at the bottom of my to-review pile. Upon re-listening, I discovered a nice collection of understated, melodic IDM. Laputa's "Eightfold Path" is a lovely composition featuring bell-like tones over rolling bass and glitchy beats. "Twinkles In My Breathing" by Naono features Rephlex-friendly warped notes over a simple piano line and snare rushes. On "Carousel" by Pascal, synths play in an almost improvisational style over a fat analogue bassline. Unfortunately the bass proves a little too repetitious.
Tachikoma's "I Frank Too Much" is on the silly hip-hop tip. "Replay" by Signalform is a melodic ditty with a distorted voice. Parallel Worlds' "Purple Skyline" is a pretty instrumental played on all analogue synthesizers. It's my favorite track here. Riamiwo's "Details Won't Detain" is the requisite pop song. The vocal style sounds familiar.
After a real dearth of IDM releases this year, it's good to see small European labels like Shima rising to the challenge. This line-up shows a lot of promise. My only complaint is the uneven lo-fi mastering throughout.