Ghostly International, 2006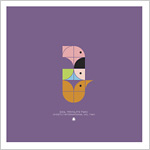 This substantial two-disc overview of Ghostly's diverse roster serves as an excellent introduction to the slick, hyped world of Mr. Valenti. The first disc, "Avant-Pop," has a retro feel to it. From the videogame introduction provided by Solvent to the dark, funky synthpop of Matthew Dear, this is good listening. My favorite track is Outputmessage's catchy "Sommeil." Happy electronics pile on a sweet beat. Another highlight is Dabrye's simple, vaguely dancehall "Magic Says." Soft flutes and the occasional sampled Klaxon grace one of Dabrye's patented synthesizer rhythms. "Berlin Sunrise" by Daniel Wang sounds like it's about to burst into "Funky Town." Lawrence's "Wasting a Fall" is a great late-night track. The only disappointment is "Fit Black Man" by Skeletons & The Girl-Faced Boys, with lyrics about "a fat white woman." Mobius Band and Benoit Pioulard also swerve too far into indie-rock territory for me.
The second disc, labeled "SMM," is decidedly less poppy. Deru is one of my favorite artists, thanks to his releases on Neo Ouija and Merck (may they both rest in peace). Here he combines intricate electronics with deep bass and a crunchy beat. Cepia's "Ramp" is ambient, almost to the point of dissolving into white noise, while his "Hoarse" adds glitchy beats and a simple melody. "Isthmus" by Kiln sounds strangely familiar. Lusine is well on his way to becoming a folktronica artist, collaborating with David Wingo on "Locks." Unfortunately, the resulting track, featuring heavily processed guitar, is rather muddled. Twine's "Gliding In On" is better at retaining structure, while slowly breaking guitar and percussion into a panning, bouncing cacophony.
As much as I like Ghostly, I feel like the label has lost focus since the first Idol Tryouts. I realize indie rock is a more lucrative pursuit right now (and electronic music labels are dropping like flies), but I miss the days when IDM makers were more interested in hacking machines than in taking guitar lessons.