Def Jam, 2006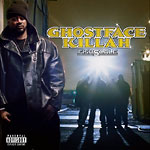 I may catch some flak for reviewing this (self-purchased) LP while claiming E-40 and Wordsworth's latest albums (promos) are too mainstream to cover, but Ghostface has a knack for combining pop-friendly tracks with really crazy experimental and underground ones. So while this album is far from consistent, it has enough interesting cuts that I really enjoy it.
First up on "Shakey Dog," Ghostface tells a harrowing story of a robbery gone wrong, with plenty of gratuitous food descriptions. While he's riding to the hit, his language is vivid: "Whip smelling like fish from one-two-fifth./Throwin' ketchup on my fries, hitting baseball spliffs./Back seat with my leg all stiff./Push the fuckin' seat up, tartar sauce on my S Dot kicks." By the time he and his accomplice Frank are in the apartment, gunshots are flying and dogs are attacking over an ominously looped sample of The Dells.
"Kilo" with Raekwon is a juanty ode to drug money, with dense lyrics leading up to a celebration of sneaker colors. "9 Milli Bros" is a welcome Wu-Tang Clan reunion over an MF Doom beat. J Dilla's production for "Beauty Jackson" is flawless. Pete Rock produced "R.A.G.U." The Delfonics swirl with doubled beats as Raekwon relaxes: "I'm in the crib watching Larry King Live…." Unfortunately, violence intrudes. On the chilling "Whip You with a Strap," Dilla's production is spot-on, with sirens underscoring Ghostface's tale of corporal punishment when he was too young to even tie his own shoes. (There's an instrumental version on Dilla's Donuts.)
Unfortunately, one of the first singles off this album is a poppy R&B track, "Back Like That" featuring Ne-Yo. "Momma" featuring Megan Rochell is similar, while "Be Easy" seems like an attempt at a club hit. There's even a morbid Biggie appearance. In fact much of the second half of the album is overtly commercial. An exception is "Dogs of War" featuring Raekwon and Theodore Unit. Pete Rock chops up Sly & The Family Stone on this brutal posse cut. Another highlight is "Underwater," a truly strange mermaid fantasy with watery sounds courtesy of MF Doom.
I don't begrudge Ghostface trying to make the charts, but I wish underground rappers didn't have to pepper their albums with pop tracks. It makes it hard to listen straight through. Still, this album is worth getting. A third of it is great!