Kyo, 2004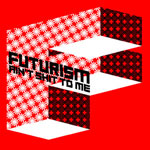 In his 1908 Futurist manifesto, F.T. Martinetti celebrates "the beauty of speed." Martinetti and his fellow artists loved fast, noisy machinery, from sooty factories to flashy locomotives. Likewise, the hip-hoppers on this compilation embrace a technology-enhanced future. The contributions span a variety of labels, though few tracks are exclusive.
From Ghostly's slick Dabrye to the multiple layers of Pole (who mastered the collection) this is a good overview of underground hip-hop's obsession with electronics (and vice versa). Other big names are Prefuse 73, Funkstörung, Antipop Consortium, and Aesop Rock. The collection's high point is a previously unreleased Shadow Huntaz track, "Pevic," its old-school beats and scratches underscoring an exceptionally smooth rap. The title track by Gonzales is also quite catchy, with amusing lyrics over an electro break.
Futurism was focused on the present, on the exhilaration of transition. That's what this release is all about, and it is the shit—it's good.