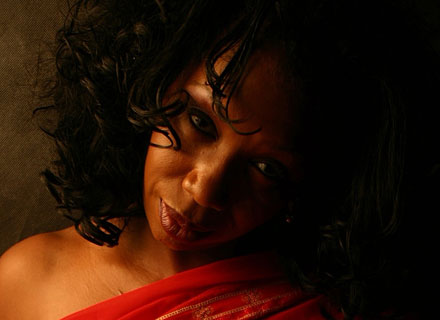 Detroit DJ and producer Minx has collaborated with many of techno's biggest names. In addition to touring and producing, she runs her own label, Women On Wax Recordings. I look forward to her set at this year's Movement festival. Minx answered my questions via email.
Jacob: When did you first get into music?
DJ Minx: I began my love for house in 1988.
What was it like partying at The Music Institute?
Nothing you could ever believe! The M.I. was always off the hook with house and techno heads dancing non-stop! The music was always tight and I never went away disappointed!
Who were your favorite DJs?
Derrick May, Kevin Saunderson, Ken Collier (R.I.P.)
Were the lines between techno and house blurrier then?
Yes indeed. Since we didn't recognize most of the tracks being played, it was all good. Back then, we didn't separate house from tech-house, from hip-house and all that.
How did you become host at Deep Space Radio?
I used to do a show in Windsor called "Steamy Windows" and Kevin Saunderson knew about it. He told me about DSR and asked if I'd be the voice for them. After the first show, it was on for good! Love Deep Space Radio!
Tell me about Club Motor.
Club Motor was one-of-a-kind. Many of the top DJs played there, and I was lucky enough to be able to open for most of them. The club had three rooms. I played the main room every Saturday night. The sound system was killer, and the lighting guy had it goin' on! It became the spot to hang at every weekend.
How did you get into production?
Moodymann (Kenny Dixon Jr.) suggested I move up to the "next level," which was production. I took him up on it and am enjoying to this day. I've been able to do a lot more since I started producing.
When did you start Women on Wax?
I started the collective Women On Wax in 1991, [then] turned it into a label in 2002.
What is your vision for the label?
To keep putting out soulful and deep house tracks, releasing once every quarter. I've got plenty of tracks to release but I've gotta get in the studio to finish them.
How did you start working with Diviniti?
Diviniti's my best friend. One day she told us (Pirahnahead and I) that she was a singer and that she'd done a track with Terrence Parker years ago. Pirahna produced "Find a Way," and after its success we worked on more and more tracks together.
I enjoyed your appearance on Andrés' latest album. How did it come about?
Moodymann called me like, "Yeah babygirl, I need your voice on this album I'm working on with Andrés. I need you to just do yo thang on it…. do that Minx thang. Can we make that happen?" Kenny's so dang'on cool!
Did your M_nus EP widen your audience?
Yes. Tremendously! M_nus attracts a different audience than my Women on Wax label. The track I produced on M_nus sold thousands of copies and got me a huge amount of recognition. Spinning with Richie Hawtin got things movin' for me a lot more as well.
You were on one of Third Ear's Beat Down EPs. Are there really (non-hip-hop) Detroit DJs that play downtempo all night?
Yes, DJs like Theo Parrish, Rick Wilhite, and Kyle Hall do it all the time. "Lavender Lust" is the name of the track I produced. I was feelin' the bass in that track. Love the sexiness in it.
Who are some of your favorite producers today?
Jose Carretas, Abicah Soul, DJ Gregory, Karizma, DJ Spen & The MuthaFunkaz.
Do you have a day job?
Yes. I work at GM headquarters as an IT Manager.
You spun at the very first DEMF. Do you feel the festival's been good for the city?
I think so. I know plenty of people that have come here specifically for the festival that had never been to Detroit before. I love seeing people from around the world coming to the D for the love of the music! The fest is good for businesses in the area as well.