Underground Quality, 2010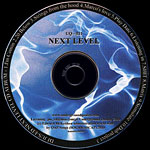 Veteran DJ Jus-Ed launched Underground Quality from his hometown of Bridgeport, Connecticut in 2005. Omar-S was kind enough to feature him on the first FXHE compilation that same year. It took me a while to catch up, but now UQ is one of a handful of house labels whose releases I buy on sight.
Released in March, Next Level is a CD-R of new Jus-Ed material. It took me multiple listens to get into this album, and I think that's because the first track put me off. "I'm Comin" has a decent beat, but I find the vocals too simple. Ed sings, "Together, together, no matter the weather, just be free and dance with me. Come on now." His voice quivers, and at time the recording sounds distorted.
Thankfully, the rest of the album is stronger. "20 Below" is a nice, dark groover with a time-bomb-ticking beat, square bass, and acid squiggles. "Strings from the Hood" has an early Larry Heard sound to it. It's melancholy and (perhaps intentionally) unpolished, with a smattering of video game sounds near the end. "Marco's Love" has nice spacey synths, though they're held back by a generic kick drum and out-of-place congas. "Play Date" is deep and unassuming.
Tracky, almost minimal "Listening In" begins with booming beats and old-school claps and snares. Then a warping alien bassline cuts in and out. I'm reminded of early Joey Beltram.
My favorite track is actually called "Shit." Its bassline draws me in. Long synth notes swell and percussion clatters over the course of ten glorious minutes. Unfortunately, it's followed by an instrumental hip-hop cut that threatens to break the album's flow. Fortunately, "Stimulate" brings the tempo back up. It's my second-favorite track, thanks to its infectious bounce. The melody spans multiple octaves. Midway through, a voice intones, "Aum." Last up, "Dub Project 3," isn't quite what you'd expect from the title. The snares are dry, though the congas have plenty of rever. A bass pulse ties it all together.
While I admire Jus-Ed for being a prolific producer, I feel that this album is a bit uneven. I also wish it were less lo-fi. These compositions would have benefited from more sophisticated production and better mastering. Jus-Ed deserves a bigger budget to really take things to the next level.