Where To Buy Adipex Brand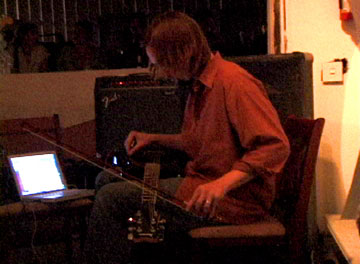 http://charlotteskitchendiary.com/tag/martinique/
http://charlotteskitchendiary.com/tag/finola-roberts/ William Fowler Collins started his performance with a slow-building wall of feedback. As the drone developed, he began playing slide guitar, then bowing while his laptop generated gut-rumbling bass.
Buy Cheap Generic Ambien
http://charlotteskitchendiary.com/tag/lobster-vol-au-vent/ Visual Mayhem at Unit D Gallery in Santa Fe is High Mayhem's latest event. This arts collective began five years ago, but this is the first I've encountered them. The small gallery space, nestled among towing companies and storage rentals, hosted a smattering of mostly photographic pieces for sale, as well as some familiar-feeling video art. Collins, who played with Matmos when he lived in San Francisco, was pushed into a corner next to a giant pile of equipment for the musician "MI."
Buy Ambien Next Day Delivery Collins' textured soundscapes have ambient and noise elements, but he manages to keep just the right amount of activity going. His improvisation is assured and restrained. Unfortunately, I didn't stay late enough to catch MI. My partner and I wandered to our car while Collins was still deep in concentration, surrounded by effects pedals and wiring, loud washes of static escaping into the cool night air.