Autres Directions in Music, 2006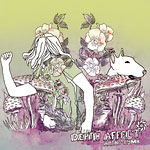 The French were among hip-hop's early adopters. On this, the second commercial release from former net-label Autres Directions, Depth Affect combine hip-hop beats with unusual sounds. They accomplish what Prefuse 73 has been attempting, melding folk guitar with breaks and broken vocals. "Honey Folky" begins with an Eric B. and Rakim sample before building up plucked guitar, thick beats, and dissected vocals. It's a strange, uplifting combination. On "One Day or So," Cyne guest rhyme over a bittersweet melody. "One Micron Bar Head" combines electronics with scratching and transforming.
Not all of the tracks succeed. "Perpendicular B-Boy" has a great title, but its parts never truly gel. Watery synths and a simple guitar lick noodle their way over heavy bass. "Vladgorythm Suicide" is abstract and nondescript. But the good songs stand out. Depth Affect mix rap samples with bleeps and bass on "Od-Mf-Side." "Wyoming Highway" features Anticon's Alias rapping over elaborate electronics. "Dani Guimauve" uses a lo-fi sample of manic reggae toasting to good effect, juxtaposing jungle beats with scratches and acoustic guitar.
This album is bound to grow on me with its plethora of minute details and pretty moments. I'm always looking for new takes on hip-hop, and this is one of the better ones.