My partner and I started our day as techno tourists at Submerge's "Somewhere In Detroit," a combination record store, museum, and gallery. We were welcomed with open arms, and we had the place to ourselves for an hour of shopping and chat. You couldn't find a nicer bunch of people. "Mad" Mike Banks was apparently still recovering from the previous night. This house-like space mere blocks from burnt-out neighborhoods truly feels like the heart of present-day Detroit techno.
We made it down to Hart Plaza around 3:30. Note that with four stages and artists scheduled almost every hour from noon until midnight, it's impossible to catch every moment. At the Real Detroit stage, Teknotika Records' Gary Martin was playing a smooth, somewhat conservative techno and house set in a tent with six speaker towers. The crowd was talkative, with only a handful truly boogying.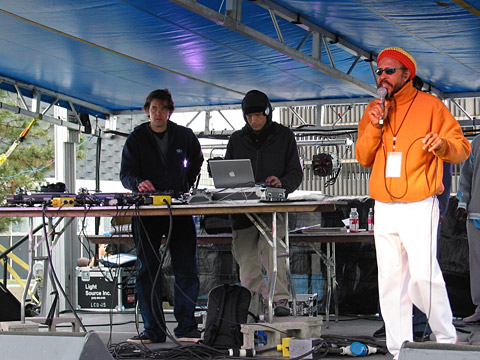 At four, Rhythm & Sound got going with some reggae 45s, including a couple of particularly scratchy dubs. The bass was threatening enough to billow blue tarps over the stacks of subwoofers. Meticulous, gaunt Moritz von Oswald briefly wandered into the middle of the dance floor to check the sound. Finally the show got going, and it was markedly different from anything going on at the other stages. Where else can you hear Bullwackie brag about Rhythm & Sound revolutionizing electronic music in the twenty-first century over classic Wackies riddims. Willi Williams improvised over a rub-a-dub style, and whenever Milton Henry chimed in, it was sweet. And what stamina! They were still playing six hours later to a small but dedicated audience.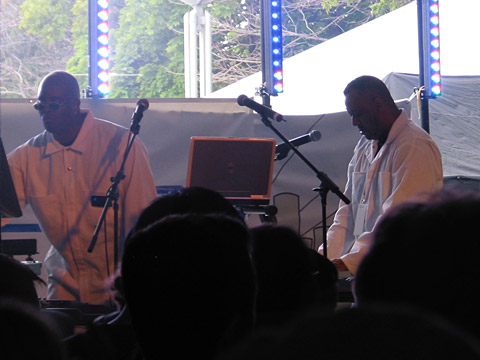 Back to the Detroit stage, where Aux 88 were playing live electro on their computers with occasional hip-hop-style MCing to keep the crowd energized. "Scream A.U.X.! Scream Detroit!" Then singing, "I need to freak; you need to freak," into a Vocoder over ripping, heavy bass. They put on a good show to an absolutely packed tent.
I briefly passed by Sheffield's Charles Webster at the main stage playing long-building house music on CDJs. He wrapped up his set with Round One's "I'm Your Brother."
Around 6:20 P.M. now, a smiling Anthony "Shake" Shakir started his set with actual techno. He played vinyl and worked the EQs, but his selections grew more and more diverse, with obscure eighties club tunes and Radiohead towards the end. I wish the crowd had been more receptive.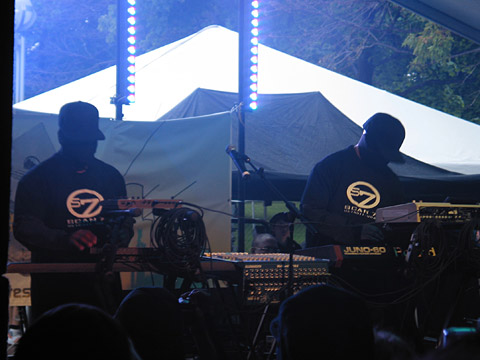 DJ Surgeon, complete with powder-blue scrubs, revitalized the crowd with quick cutting and scratching. He was obviously having fun. Just when he had everyone at his fingertips, two masked members of Scan 7 emerged and started playing fierce rhythm tracks on a bank of drum machines. Occasionally synths chimed in with spacey sounds. The beat arrangements were varied but unrelenting. This was the purest, truest techno of the day, and the packed crowd certainly appreciated it. They only played for an hour or so, but what an hour!
Moodymann was the headline act, but rather than play the quirky house music for which he's best known, he fronted a live, jazzy party band which sounded surprisingly unrehearsed. It was difficult to dance to, and a cold, light rain certainly didn't help. The crowd slowly thinned out. Undoubtedly many in-the-know were off to one or more of many afterparties. Tonight Kenny Dixon Jr.'s Soul Skate is the one with the most buzz. There's little rest this weekend for dancers in Detroit.