Suss'd, 2006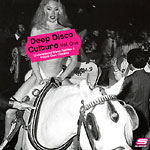 Without disco, there would be no techno. In fact, the more underground dance music I hear, the more convinced I am that it's all been done before. Luke Vibert must have attended the school of Patrick Adams. House, trance, acid, and yes, even IDM all have precursors in the spacey seventies.
This new double-disc compilation from Suss'd is similar in focus to Counterpoint's excellent Disco Juice series. Here are lots of P&P productions which got more club than radio play. In fact some of them are quite rare. Since the focus is hard-to-find, collectible vinyl, not all of the tracks are great. There are a few LP tracks that could have been left out. But gems like Paper Doll's cheerful "Get Down Boy," the bizarre yet catchy "Hunchin All Night" by Catherine Miller, and Cloud One's classic "Atmosphere Strut" make it all worthwhile. And that's just disc one.
Disc two features an incredibly trippy Walter Gibbons mix of "Moon Maiden" by Luv You Madly Orchestra. The Music Makers are Cloud One lite. Shift's "Roller Rink Funk" doesn't live up to its reputation, but Cream de Coco's "Disco Strut" is nice and funky.
Best of all, this is an unmixed collection of original 12-inch versions, and unlike many underground disco compilations, the sound quality is excellent. Someone spent a lot of time and money tracking down original masters. The liner notes are decent as well, describing each cut's collectibility and rediscovery potential. While I don't usually cover disco here, this UK release is exciting stuff.