Benbecula, 2005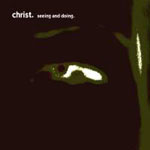 Christ. follows up on his debut album with a short, sweet EP of four tracks (plus a remix by Alias and a video). "Fragile X" provides a brief intro, but "Marsh of Epidemics" is deep and long. It's a slow-building, atmospheric track with layers of analogue electronics and underwater voices. "Magic Piano" is even more abstract. Lo-fi New Age-ish synths sound like they're coming from a beat-up Victrola in the woods. It's a good effect: computer music on a scratchy 78. Finally, "Alter Boy" sounds very Boards of Canada-y. (Christ. is an ex-member, so comparison is unavoidable.) Children's voices, prominent percussion, and melodic analogue synthesizers provoke a feeling of nostalgia, while the title pun puts "…the Right to Children" in a whole new, creepy light.
Alias's remix of "Marsh of Epidemics" is the only track that disappoints. The Anticon producer re-structures Christ.'s composition in a pop format, with heavy repetition and a flat hip-hop beat. It's the kind of dance track that would have sounded fresh in the early '90s, but is stale today.
The most exciting aspect of this EP is evidence of Christ.'s musical development. He's beginning to experiment with structure and style, expanding beyond Boards of Canada clichés. I hope he continues to evolve.