~scape, 2006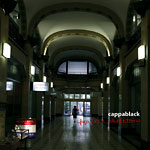 I've been a fan of Japanese hip-hop duo Cappablack since their appearance on the Staedtizism comps. On this, their second album, two guest MCs rhyme over some of their creative productions. After an intoxicating intro with scratched samples, Awol One raps on "Slide Around." His rhyme style is unusual, with rambling, often humorous similes and digressions. He asks, "Who runs for governor of California?/An actor who plays commandos and robots./Like a foster child midget/who's tryin' to make digits." It can get a little tiring. On "New Tone," Emirp rhymes in Japanese over a difficult 6/8 beat.
My favorite tracks are instrumentals. "Evil Clap" has a great bass pulse with rapidly morphing handclaps and other percussion (including piano). "Components & Variables" from Staedtizism 3 is quirky and fun, with mathematics-related samples over a broken beat and a stuttering organ. "City of Amnesia" is a sweet downtempo number. "5th Dimension (Anti-Imperialism Disco)" is familiar from the But Then Again compilation. Finally, "Harder to Unravel" is another great Staedtizism track. It's the album's high-point, with chipmunked vocals (Billie Holiday?) and a syncopated rhythm.
A lot of electronic musicians who make instrumental hip-hop end up with albums where every track has a guest vocalist. These efforts are seldom consistent. I hope Cappablack don't fall prey to this trend, because it's their instrumental work I love the most.