Skam, 2006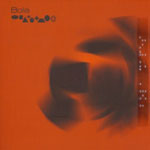 Six years ago, Skam kicked off their 33 sub-label with a triple 12-inch pack from a mystery artist. Skam have finally revealed that the artist is Bola, and they've re-mastered all of the tracks for CD along with three bonus cuts from the same era.
This is Artificial Intelligence-inspired IDM, from the growls and starbursts of "Fonk (Flower)" to the beautiful sweeps and confident thrums of "Pula Kappas (Square)." "Ballast (Triangle)" is a rollicking good time with a speedy descending bassline. "Forcasa2.2 (Oval)" should sound familiar to anyone owning the Skampler compilation. "Squib (Nuclear)" is slow and simple.
This music was retro even when it was first released, but it holds up well. Bola has a flare for pure electronics and dramatic compositions. These cuts will appeal to melodic music lovers as well as hardcore IDMers. I hope this time around there are more than just three-hundred copies!