Warp, 2002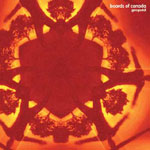 I quite like Geogaddi. Back when Music Has the Right to Children came out, I was disappointed that there were so many short fillers. I longed for another "Hi Scores" or "Everything You Do Is a Balloon." Nonetheless, that album has grown on me. Now Boards of Canada's style borders on caricature, but we know what to expect.
Geogaddi is full of crunchy half-hip-hop, half-Autechre beats, saccharine melodies, and distorted samples of analogue synths and children's voices. "Music is Math," the first full-fledged composition on this LP, gradually morphs from downtempo chill-out to psychedelic '60s freak-out. All the parts are there, but it feels a bit empty. "Gyroscope" may have fans debating the appropriateness of laying baby sounds over belly-dancing beats. I think it's creepy on purpose, and it's certainly the most un-Boards-of-Canada-sounding track on the release. "Dandelions" is a very short cut worth mentioning for one killer sample. Is that Peter Grave's voice?
"Sunshine Recorder" has a languid summertime feel, with distorted voices over deep bass and textured beats. The voices in the background remind me of Gescom's "Keynell." Not a bad track. "1969" is by far my favorite composition on the album. It's rich with gorgeous melodic layers and lo-fi distortion. The vocodered voices' catchy refrains blend in perfectly.
BoC's continued obsession with lost childhood makes for some great nostalgic music. (Wordsworth's "Ode: Intimations of Immortality from Recollections of Early Childhood" makes a good companion piece.) I do hope they branch out a little, though. They're so talented, it would be a shame if they didn't experiment with other themes.
(This review is co-published on Stereo88.com.)