Inflatabl Labl, 2004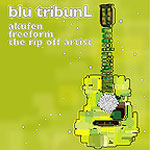 On this unusual compilation, Akufen, Freeform, and The Rip Off Artist each contribute electronic music inspired by the blues. Akufen chops sampled guitar into glitchy bursts of sound over the simplest beats. "Ain't Gonna Beg Ya No More" is reminiscent of Brinkmann's Soul Center project, looping the source material into a clean, computerized funk. Freeform has a more complex take, laying his production on thick over a lick with "Blue Movies." The bass rumbles along with howling electronic wind and synth stabs until the track breaks down to syncopation and thunder.
The most unusual track is The Rip Off Artist's cover of the old Julie London song "Must Be Catchin'." With '80s synths, drum machine solos, and mostly monotone singing, this one doesn't quite fit in. Akufen's "I Won't Buy You" is truest to the typical structure of a blues song, with a slow build and catchy chorus. "It's Not My Blues" by Freeform has an almost tropical feel—it's more loungey than bluesy, while The Rip Off Artist's "Please Come Home" is a groovy salad of chopped guitar samples and mixed keyboards.
Thankfully all three artists chose to create original music rather than derivative remixes. While many of the tracks obviously take their cue from electric blues, complete with sampled vocals and riffs, the overall sound is fresh and new and certainly unique to this collection.