Bip-Hop, 2002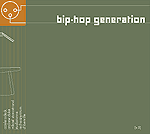 I don't think I've ever heard a compilation series as solid as Bip-Hop Generation. This fifth volume begins with a wonderfully simple, melodic composition by Accelera Deck. I've been following Chris Jeely since his second full-length, and his music is always enjoyable. Next up, Andrew Duke provides a down-tempo track which exudes warmth. A deep, rolling bassline and percolating beats back up the drawn-out synth chords. This is fifteen minutes of ambient bliss.
Mikael Stavostrand provides the third cut. This is the only track of his I've heard, but for his appearance on Clicks & Cuts 2. It's mellow and minimal, relying almost entirely on heavy bass pulses under swirling lo-fi warbling and clicks. Tonne's "Auto Loader" similarly plays with little bleeps of synth sound, but a steady beat makes this more accessible.
Rechenzentrum's "Le Joujou du Pauvre" is anything but accessible, with a screeching horn over speaker-punishing bass, crackles, and clipping. Some muffled voices seem to emerge as well, along with almost-painful static. I guess it's a bit too discordant for this listener.
Finally, D'Iberville contributes a trio of compositions. The first of them is minimal percussion reminiscent to Richie Hawtin's Concept series. The second is a bit noisier, and the third busier still. The textures make them all enjoyable listens.
It's amazing how cohesive this compilation is. With exclusive contributions from six artists, each from a different country, this issue provides a nice overview of the lesser-known dub-inspired electronica coming out these days. This is an essential introduction to some fascinating music, and I hope it opens new opportunities for the artists involved.