Bip-Hop, 2001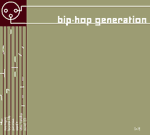 Some kind soul sent me this compilation while I was away on vacation. I returned to a real treat. On this series from France's Bip-Hop label, electronic artists from all over the world contribute two or three exclusive tracks. Neotropic, of Ninja Tune fame, kicks off this third volume with two laid-back, atmospheric pieces. Bovine Life's short "A Local Magnetic Anomaly" is much more to my liking, with a dramatic crescendo of melodic blips. "Andeonaig" is the perfect follow-up, with a soft, simple melody over rattly beats. "Ardtalnaig" steps things up a notch with a classic, hard techno beat and swirling synths. This is a joyous track, reminiscent of Detroit masters like Kenny Larkin.
Pimmon contributes a series of abstract compositions. Unfortunately, the noises never really gel into anything especially interesting. Zonk't's "Artificially Amplified Raindrop Deepest Thoughts for Sale" is much richer, with little dripping noises, a punishing beat, and a rolling bassline; however, fourteen minutes is way too long for such a simple combination. Atau Tanaka's two tracks also border on ambient, with subdued pulsing beats and swirls of textured sound. Not bad! Finally, Russian artist Novel 23 contributes a trio of retro-sounding pieces, including the beautiful "Leia's Charm." I wasn't into his album on Pitchcadet, but now I wish I'd kept my copy so I could go back to it.
Although there's been an overflow of IDM compilations lately, Bip-Hop's definitely carving a niche by providing a venue for promising lesser-known artists. While the music ranges from ambient to melodic, it's bound by confidence and creativity.