Puzzlebox Records, 2010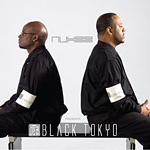 On Black Tokyo, Aux 88 juxtapose electro depths with moments of kitsch. The title track's chorus, repeated a capella ad nauseum, isn't as fascinating as vocalist Ice Truck seems to believe. More successful is the melodic instrumental "Tokyo Drive." Can traffic truly be so leisurely?
"Electronic Cinema" and "Electric Underground" echo Dopplereffekt and Kraftwerk, respectively. The former track's naive vocals are somewhat grating. "Soul of Black" is the most successful pairing of voice with electronics. Piano chords and thick bass evoke a night skyline. "Stance" isn't bad either. Wistful Detroit strings contrast with the heavy beat.
"Reel to Real" and "Dragon Fly" are my least favorite tracks. Over-exuberant synth stabs on the former and rave-style vocals on the latter are apparently tailored to a type of club I avoid. I find "Kyoto Station" charming, however, perhaps because I've actually been there. I wish there were an instrumental version of "Winter in Japan." The synth parts are beautiful. "Tokyo Telacom" [sic] is what the title track should have been. The vocoder parts work well with the subject matter.
I admire Aux 88 for their longevity and for their willingness to experiment. This is a diverse album. While I may not like certain cuts, there's something for everyone with an interest in Detroit techno and electro. The final track proper, "Shadow Dancing," even has a dub techno flavor. I would love to see a live show with this material.