Art of Vengeance, 2011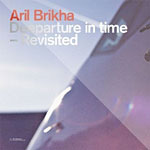 Brikha's debut album, first released in 2000 on Derrick May's Transmat label, has a reputation as a masterpiece. By the time I came by a copy a few years ago, there was no way it could live up to the hype. Thankfully, this ten-year anniversary reissue should bring prices down to a more reasonable level and allow more people to hear what is, in fact, a solid techno album.
Brikha's remastering is on the heavy side. All of the tracks are much louder than before. The CD version features some new extended mixes as well as a bonus disc of material recorded around the same time. Unfortunately, the vinyl version is just a sampler with eight out of twenty cuts.
The opening track, "Embrace," has been extended. Now it starts off-beat. Brikha's complex percussion sounds effortless as dubby chords pan and reverberate. "Ottil" is even deeper, with Detroit-style synth washes and subtle changes that gradually reveal a melody. It's my favorite track here.
"Sweet Lullaby" is dub techno a la Basic Channel, but with harder distortion. In daylight hours I find it tiring, but late at night it becomes atmospheric. "On & On" would probably be called tech-house these days. If you pay close attention, there's a call and response between synth lines, but if you aren't careful it can easily become background music.
"Setting Sun" is another favorite. The bassline warps and wriggles, merging with an acid midrange. At just the right point, an improvised treble line slides from note to note. The title track tends to wash over me, especially here in a ten-minute extended mix. "Bytes" has a similar groove.
"Groove La Chord" has been touted as a big cross-over track, but it has always struck me as superficial. "Headhunter" is more original, and it's beautiful to boot. The growling bassline builds suspense until a sweet melody briefly engages. "Read Only Memory" rounds out the first disc with deep techno chords and bass. By the time a heavy kickdrum joins, I've already been pulled in.
Some of the bonus tracks are surprisingly good. "Fuknit" doesn't have the most original chords stabs, but a groovy bassline and fluttering treble really hit the spot. "Artoo" is simple but deep. "City Slicker" and "Way Back" are rather generic, but at least the latter picks up the tempo. "Rising Sun" is high-tech soul at its finest. The synth solo at the end couldn't be sweeter.
As its name implies, "Electrocity" starts with an electro beat, but synth washes soften the hard edges. I like it. "Tuff" is also a treat. It's a more beat-heavy version of "Ottil." "Us (Part 1&2)" is an understated dub-techno/acid hybrid. It's catchy, if strangely familiar. "Aqua" is laid back to the point of easy listening. It's really not my style. "Lone Rider" returns to dubby territory for a satisfyingly restrained conclusion.
According to the liner notes, Brikha performed all of these pieces live between 1995 and 1999, recording straight to Digital Audio Tape. As a result, none of the tracks feel overworked. Each one is a slice of time. I wouldn't put this album on a pedestal, but ten years later, it's still an enjoyable listen.