Various: Shitkatapult Empfiehlt
Shitkatapult, 2006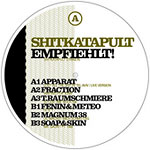 This is the latest in a slew of fine Shitkatapult 12-inches, and I wish I had time to cover them all. Empfiehlt means "recommends," so this one truly is a showcase.
First up is the dramatic and beautiful "Lost All the Shit in Tel Aviv" by Apparat. It's a live recording, though you wouldn't know it 'cause it's tight. Fraction's "Waiting for Josh" has some IDM elements with stutters, starts, and in-your-face production. An enchanting melody comes out of the woodwork at just the right moments. T.Raumschmiere wraps up the A-side with a short cut of brooding bass tones.
Fenin & Meteo kick off the flip with the rollicking, dubby "Fete 1." "Du Machst Mich Schmutzig" by Magnum 38 featuring Sissi Cat is a pointed contrast. Sissi giggles and growls over grimey, stomping electronics. Apparently the chorus translates to, "You make me dirty." Last but not least, Soap & Skin contributes "Mr. Gaunt Pt. 1000." It's a surprisingly delicate piano ballad with strings and singing.
Somehow Shitkatapult manages to create cohesive statements from the most diverse material. The one common thread? Talent!