Tied & Tickled Trio: Electric Avenue Tapes
Clearspot, 2001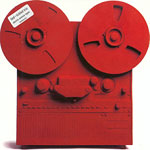 There are a number of contemporary artists who attempt to combine electronic music with jazz concepts, Squarepusher being one of the more successful. Yet few of these musicians manage improvisation. Tied & Tickled Trio do. Electric Avenue Tapes is in fact a live album. And these six musicians are a tight group.
"United World Elevator" is one of the more melodic tracks. Something about it reminds me of Mouse on Mars' playfulness. Not that this group is unoriginal. As the track slowly builds, it actually sounds exciting. So many electronic releases these days are more cerebral than they are emotional. It's refreshing to hear a collaboration that's this cohesive and fresh. By the time Ulrich Wangenheim's tenor sax kicks in, the bassline's reached a fever pitch and the percussion and electronics are swirling.
"Tusovska Dub Version" and "Van Brunt/Van Ness" are slightly less satisfying tracks due to their simplicity. But they are the shortest of the bunch. "Sevastopol Version" is much sweeter. It's a fairly subtle dub, with layers of reverb over a driving beat. Finally, "Konstantinopel" is a nice way to end the album, with free jazz sax ramblings over a catchy groove. All in all, a very satisfying, if not a bit short (at around 45 minutes) release.