The Sight Below and L'usine at Sonotheque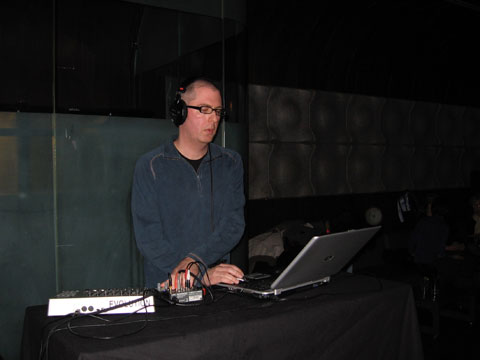 Sonotheque had a nice low-key line-up of electronic musicians last night. The Sight Below played a short laptop set of stripped-down ambient and dubby pieces. He controlled his own video, much of it consisting of black and white insect footage. Unfortunately, he seemed frustrated by the audience's apparent inattention. More volume and less pauses definitely would have helped.
It's been a while since I've heard from L'usine, but it seems he's been working on plenty of new music. Somehow I never reviewed any of his releases, though I have all of his albums, and he's made my annual top ten list several times. Jeff played a lengthy, continuously mixed mid-tempo set and appeared to be tweaking a lot of elements on the fly. Big bass, sweet melodies, and even the occasional sampled vocal elements went over well. A few people even boogied. Since it was a Thursday, I left at a quarter past one while he was taking a break. It was nice to meet Mike from Headphone Commute. I feel like I'm starting to recognize a lot of faces in Chicago's small but die-hard electronic music scene. Now who's up for Moodymann at SmartBar Saturday night?