Convextion at SmartBar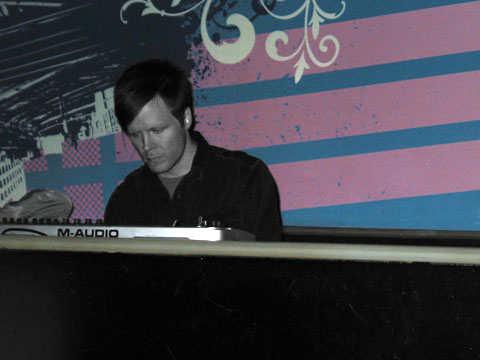 Last night Convextion (Gerard Hanson) played an amazing set of mostly new material at SmartBar here in Chicago. Jeff Pietro and Sonic Sunset's Dave Siska opened with solid mixes of dub techno, the latter ending with a Basic Channel medley of sorts. While SmartBar was smelly, empty, and dark, Convextion's material sounded lovely on the sound system. His compositions were on the E.R.P./electro side with sweet melodies and fat, round bass about an octave above the norm. Hanson must spend weeks perfectly crafting those basslines, which even get their own solos. While Hanson's reverberating chords sound like no one else's, sometimes I was reminded of Dopplereffekt the way he coaxes the most beautiful tracks from the hardest, grittiest synth sounds.
As an added bonus, I got to meet Steve Hitchell in person, and he's a friendly, down-to-earth guy. Hanson was also quite approachable. It felt like a private party with such a small crowd. While I wish the scene was more vibrant, I certainly can't complain about hearing great music on a big system in a relatively intimate group.